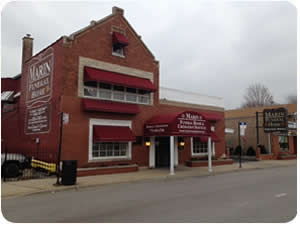 Funeral, Wake and Memorial Services in Chicago
Marin Funeral Home provides a peaceful and tranquil environment for making arrangements and holding services for loved ones. We offer at need and pre-arrangements (for those who would like to express their wishes prior to the time of final resting).
Marin Funeral Home is located at 2744 W. 51st Street (on the corner of 51st and California Avenue). Our lobby enables families to meet and visit with friends and relatives in a warm, relaxed atmosphere and gives one a feeling of home. Our chapel is large and comfortable and is available to all of our families. It can be utilized for any denominational service. We also have a memorial/video presentation room capable of presenting a tribute of the deceased's life on video/dvd. Our refreshment room is available to all visitors in which coffee and tea are served.
Below you will find a few images of our Chicago funeral home just outside of Midway Airport. We have recently updated the facility to make it a more comfortable, tranquil setting for everyone attending services here.