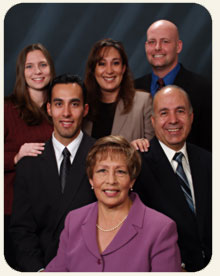 Marin Funeral Home is Family Owned and Independent
In 1923 John Marin established the first Marin Funeral Home. Having modest beginnings as a carpenter then making wooden caskets. After many years he decided to pursue a funeral career and opened the first Marin Funeral Home. His children and their children followed in his footsteps. Now after 82 years the 3rd generation continues on the family tradition.
In 1999 siblings Aldo Marin and Liz Marin-Andel opened a branch in Chicago's Southwest Side, to better serve the needs of the community.
A family firm such as ours will give you the personal attention and care that you deserve, with outstanding professionalism that generations of service and experience can cultivate.
We are proud of the fact that we are a family owned and operated business. This means that we only answer to you. We are not shareholders and we don't make commission out of our services. We also strive in maintaining our overhead costs low, which allows us to save you money, while providing you with first class, clean, facilities at affordable prices. Furthermore, we also do all of our funeral preparation and related work at our facility, this saves you money and ensures that your loved one is in our family care at all times. (Many funeral homes have to outsource embalmers, funeral directors and employees for the preparation; directing funerals and the visitation, thus costing you more at the end).